Enhance Boarding Student Life with Reach: The Perfect Complement to Academic Excellence
As the most trusted Boarding Management Platform in the world, Reach Boarding has proven itself as the intuitive, go-to solution for more boarding schools than any other platform. Automate Student Life processes around risk-management and accountability, even while on-the-go. Account for boarding and day students on campus outside of the academic day, and assist with measuring and tracking your students' wellbeing and mental health needs.
Reach is the perfect Student Life complement to your Academic Life.
Contact us
What Does Reach Do For You?
Automate your boarding operations, remove paperwork and simplify your operations
Implement global best practice with the global leader in boarding school management
Access from any device with cloud storage and 24/7 access for all users
Manage your Duty of Care with a system designed specifically for boarding schools
Focus on your students, save time on administration and record keeping
Manage Risk, create a safe environment that protects students, staff and your school
Gain Efficiency in all facets of your boarding operations and data management
Improve Communications with your entire boarding community
Share Knowledge across your staff teams and management
Implement Protocols to apply best practice systems across your boarding operations
Capture and store data in single location safely and securely
Rapid access to information with data at fingertips on from device at any time
Generate Management reports and monitor your operations with live dashboards
Manage Staff with in teams with rostering and granular permission controls
Manage Students with built in tracking, safety and security monitoring
Customize your system to suit your unique workflows and procedures
Integrate your systems for efficient data management and access control
How Does Reach Help?
Audit Log
A secure log of all transactions and records in Reach that tracks everything. It is a massive fact recorder and the essential tool when you need it most. 
Campus Chat
Integrated real-time, secure chat capability between student and teacher. All data stays within the StudentLife system.
Communication Hub
Notice Boards, Chat Rooms and Direct messaging let you engage your entire boarding community in a safe and secure communications space.
Community Report Card
Create, share and record custom reports on every aspect of boarding school life. Engage your parent community and track student progress. 
Consent Forms
Create and track custom consent forms for any group of users. Ideal for parent permission slips, student and staff inductions. 
Custom Surveys/Forms
Create, edit, and manage customized intuitive forms designed for students and parents. Generate permission forms for activities, waivers for field trips, or even create short surveys for students and staff.
Customized Reporting
Rapid access to insights and management information with a report generator that taps you in to the enormous amounts of data captured in Reach.
Duty & Shift Reporting
Share essential knowledge amongst teams with custom duty reports that circulate to relevant staff and directly update student records.
Duty Scheduler
Schedule staff across multiple rosters or locations with notifications, noticeboards, communications and record of hours scheduled and hours worked.
Emergency Management
This module enables the admin to manage incidents, student locations, real-time chat, status confirmation, alerts, and communication.
Events Coordinator
Create, publish, track and report recreation events. Makes managing your events calendar so easy and engages students and parents.
Front Desk
Every student/camper, parent, staff member, and invited guest will be checked in and checked out of your campus premises in real-time.
Grading
Create, score and report your own scoring forms for measures like room inspections or prep session records.
Leave Manager
A sophisticated leave approval system that is able handle complex audit trails and permission structures.
Meals Dashboard
Accurate meal time projections based on student movements on and off campus, including late meals and dietary requirements.
Medication Dispensary
A meticulous medications system that ensure a safe and controlled environment to easily manage student medications.
Pastoral Care
Track all elements of student behaviour and wellbeing with pastoral care record keeping that lets you set the agenda and design your own parameters.
Prep4 Videos
By watching these multilingual videos, young people will learn healthy ways of coping with the stress of spending time away from home.
Rollcalls & Registers
Flexible rollcall management on any device and at any time. Take rollcalls in person, use QR codes, NFC or biometrics for students.
Student Locator
Do you know where your students are? Reach does! Track and monitor student locations and movements with advanced permission controls and record keeping.
Voyage Transport Manager
Capture and generate student transport requirements to easily manage your school vehicles, airport drop offs or taxi bookings.
Wellness Check
Reach Boarding lets you track, manage, and report on the overall quality of care, the behaviour, and the wellbeing of your students using data tracking, behaviour tagging, and analytics to provide real-time insight of student interactions to ensure harmony and alert staff to potential interpersonal issues before they can escalate.
Is Reach Boarding Easy to Use?
Student Sidebar Comprehensive
The Student Sidebar is where you can access a wealth of individualized student information at the click of a button! This displays historic and relevant information from their profile.
You can access the Student Sidebar from every screen in Reach by clicking the three horizontal bars icon in the top-right corner. You will also find that in most screens within Reach, clicking on a student's name will open their profile in the Student Sidebar. 
Flip through our slides to see some of these functions and what they mean.
Who Needs Reach Boarding Management System?
Our complete tracking and reporting suite is intuitive for administrators and students, and seamlessly integrates with your current school management system to provide insight for every aspect of boarding life.
Deputy Head Pastoral
Athletic Director
Exeat Coordinator
Head of Boarding
Campus Safety
Educator
Day School Administrators
Director of Student Activities
IT Support
House Mistress
Coach
Director of Student Life
House Master
Matron
Nurse
House Parents
Dean of Students
Faculty
Admissions
Transportation Coordinator
Guardians
Events Manager
Head Master
Director of Residence Life
Tutors
Gap Students
Head of House
Hosts
Boarding Supervisors
Director of Boarding
Dorm Parent
Student Advisors
Boarding Admin
Students
Parents
Recreation Manager
IT Managers
Risk and Compliance managers
Contact us
What Can You Do in Reach Boarding?
School Staff
Manage student campus arrival/departures in Airport View

Create/Manage Students activities and events

Create/receive Duty Reports

Create/Manage Pastoral Notes

Log medication administered
Students
Change Location (if permitted)

One-on-one communication with a staff member

See announcements on the boards
Parents
Request a Leave (if permitted)

Submit documentation related to events and/or leaves

Approve students sign up for an event

Receive communications from the school
Is Reach Boarding Secure?
We have designed the Reach user-access security system as a robust and flexible digital architecture that provides administrators with complete control across the entire user base. Reach Boarding is constantly seeking to improve user experience, efficiency, and security for our schools.
To learn more click here
Prep4 School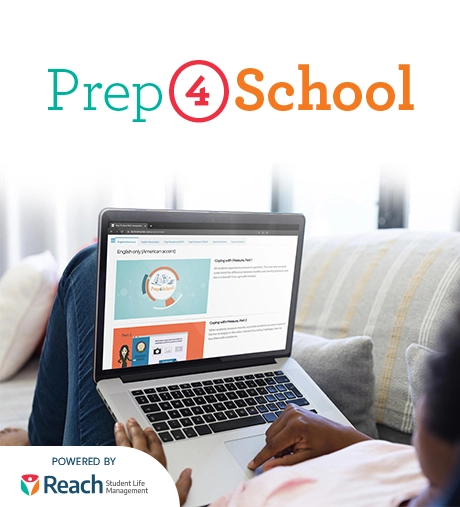 We are happy to announce that Reach Student Life management has acquired Prep4School and Prep4Camp.
Reach schools have now access to the full collections of videos created by Dr. Thurber! Dr. Chris Thurber, has inspired leadership and preparing young minds to learn and live away from home since 1991.
Prep4School is what all students need to be successful and happy! Prep4School is a collection of short animations that explain the keys to efficient time management, homesickness prevention, sleep hygiene, joining classroom discussions, communicating with teachers, and dealing with both academic pressure and the stress of a new culture. Start school ready to achieve something great!
By watching Prep4School videos, students learn life skills and build a social-emotional foundation for success—both in and out of school. Prep4School has awesome videos that teach new and returning students the keys to social, emotional, and academic success.
Learn more
How Much Does Reach Cost?
Whether your school has a large or small student population, we're here to help you scale.
We pride ourselves on taking the time to sit down with each school to discuss together what is the best plan for their school, as we think it's important to understand each school's unique needs and operation before offering an accurate quote.
Included with each school's quote will be the following:
Annual Subscription Charge:
Reach Boarding is provided on an annual subscription per-student basis. Your fee is based on the student population and will be reviewed each year based on student numbers.
Data Integration:
The integration will be provided to your school's Student Information System for the provisioning and synchronization of user accounts into the Reach platform. This will ensure a single master record and reduce administrative overheads of maintaining two separate user databases.
Contact us
Product Support And Training
You will connect with our team in your region, who will know your school.
Regional, Responsive, and Concierge-Level Support
Reach has numerous training resources to get new staff up and running. With support teams and developers in Canada, United States, Australia, and the United Kingdom and Europe, help is never far away. You can find support information, videos, tutorials and important setup information at support.reach.cloud. From here, you can:
Launch support tickets
Chat with our support team
Find articles to a challenge
Submit a suggestion
Experienced Team Members with an Educational Pedigree
Our team is comprised of former School Administrators, Deans, Dorm Parents, Admission Directors, Industry Experts and Advancement Professionals. We know schools because we've been there. Click here to know our team
All telephone and online support calls are included as part of the Reach subscription. Staff Training is included as part of the initial setup cost and is carried out on a "train the trainer" basis.
Staff training can be either conducted on-site at your school or via online methods depending upon your particular needs. Additional on-site training can be supplied at additional cost… etc.
This comprehensive, self-paced, virtual training program guides your team through all you need to know about our Top 8 Modules, used by schools around the globe. Upon completion of all 8 courses, we issue a certification badge that can be displayed on your LinkedIn profile! Each course takes roughly 10-20 minutes depending on user experience. Teach Reach allows your team to revisit both our mobile and web platforms in a guided environment, with specific tasks for each module.
If you are interested in registering for Teach Reach please click here
Global
Reach works with schools across six continents. We understand how schools across the globe operate differently.
Experienced Team Members with an Educational Pedigree:
Our team is composed of former School Administrators, Deans, Dorm Parents, Admission Directors, and Advancement Professionals from around the world. We know schools because we've been there. Click here to know our team
Global Partnerships with Institutions and People:
Reach has developed partnerships with global leaders in Education, bringing their expertise into Reach. Click here to learn more about our Partnerships
FAQ
We have selected some common questions from our Boarding School clients below, for a more complete list of FAQ click here
How is the implementation timeline and on-boarding process?
Every school that uses Reach will have gone through a custom roll out plan that is formed from discussions between Reach and the key stakeholders at the school. This roll out plan will cover all areas such as IT, boarding processes, training and parent engagement to make sure that the school requirements are met in the timescales agreed and that the benefits are felt as soon as possible. 
Can we see a dummy campus to play around with and have our staff try out?
Absolutely. Our team can spin up a portal you to play around with and we can load some dummy data in there so you can see Reach in action. Contact us.
What data does Reach need to be uploaded? How do we upload our data?
Reach has a direct integration with your instance of School Management System or Student Information System, so by API, we connect to your data and securely sync information on a daily basis. Reach is predominantly pulling demographic information of student and parent, as the system helps schools manage the leave process and emailing of parents. Information such as Dorm/Boarding House, Grade/Year Group, Gender, Room, etc… are also pulled through the API.
Data upload occurs using the API of your School Management System or Student Information System integration. Reach has built over 30 integrations with partners around the world. The sync occurs usually at 2am each day, updating only records that have been changed.
Does Reach have location tracking for students – in terms of live GPS of the device?
We are rolling out our new Emergency Management System in Q1 of 2023 and we have baked this feature into the system, identifying the GPS location of a student during an emergency on/off campus.
Can Reach customize the system to suit your campus ?
Every School is different so it is important for you to be able to customize and configure the settings and workflows to suit your specific needs.
Reach provides you with the flexibility to configure your system to fit in with your school. You can set your own protocols and processes to suit your specific workflows. This makes implementation easier and ensures that there is minimal disruption for your staff, student and parent communities.
Need more information?
Let's Connect!
We can answer your questions, and review all of the features and benefits that Reach can provide to complement your Student Life program.
Contact us
Reach Student Life Management works with all major platforms and devices: